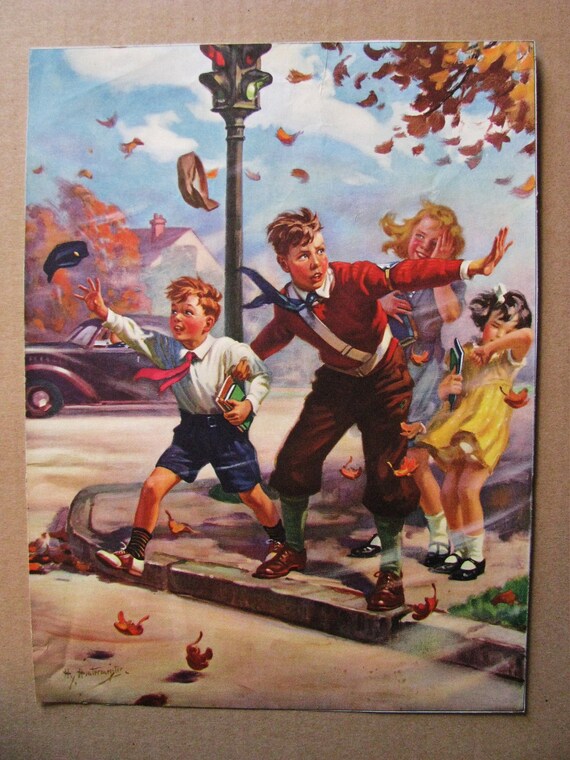 "Windy Day" by Hintermeister
Isn't this great? I found it on Etsy, and after resisting bravely for about two weeks, I find I simply must have it

, so I've placed my order.
I love autumn! I love the wild, glorious lavish exuberance of it. The winds tossing the trees about,

color

whirling and showering down

:
Are driven, like ghosts from an enchan

ter fleeing,
Yellow, and black, and pale, and hectic red,
Pestilence-stricken multitu

des...
(From "Ode to the West Wi

nd" by Percy Bysshe Shelley)
A friend and I were discussing the changes we've noted about the celebrating of Halloween over the years. I remember when

it

was a

very

simple time. Just kids, no adults, and the costumes were often something we contrived ourselves. Maybe a few lucky kids had mothers who sewed and made them something exceptional to wear, but the rest of us "made do" with a cheap plastic face mask and som

e

oversized garment w

e'd

rifled from our parents' closets.
My first Halloween costume was made by my mom the afternoon of October 31st--a hood and cape of red crepe paper, and I was overjoyed to be Red Riding Hood. I remember one of my sisters dressing as a robot, in a cardboard box with balloons attached.
No one worried about letting unescorted children roam the little farm town alone after dark or about sorting the candy to be sure no one had tampered with it to make it dangerous. I don't even remember anyone worrying about too much sugar--we were free to revel in

the

once-a-year largesse. The only "threat" we experienced when a prankster slit my bag from underneath, and we had to make a detour to my grandmother's for a replacement sack. We were sure the culprit

must have been

a "big girl" we'd seen, dressed as a rabbit and smoking a cigarette

!

No doubt, being a bad element, we were sure she had to have come over from

a

neighboring small farm town. She couldn't have been a local!
Nowadays Halloween is big business and it seems the adults are more invested in it than the children. It's less about harmless masquerade and more about ghoulish horror.

Kids have to do their trick-or-treating
in

shopping malls now or around

well-lit neighborhoods
with their parents

in tow in order to avoid being

bullied, assaulted,

or kidnapped.

A
nd what's the fun in

that? It was the wonderful freedom of being out and about in the dark, just a

gaggle of neighborhood kids, that made it so much fun in the first place. It's such a shame.
Okay, I don't want to get gloomy, so here's a sweet photo to

brighten us all up:
Isn't she a living doll? (No
pun intended, here!)
This little "Raggedy Ann" is named Emma, and her mom kindly shared this photo with me and said I could show it to you all. She's carrying the Raggedy Ann tote bag I made and sold through RedLetterDayBags, and she's on her way to a costume contest. I don't know the outcome of the contest, but

she's

a winner in my book. Just look at those rosy cheeks! It's always neat to hear back from one of my buyers, and to see

something I've made "in action".
Oh--before I forget. I did promise to post the drop sugar cookie recipe again, without the photos, so it's easy to copy. This time I'

m posting the variations, too. The chocolate one is my favorite--they are SO good!
Drop Sugar Cookies
In a large bowl, cream together the first 6 ingredients. In a separate bowl, blend the dry ingredients (the last 4), then add them to the creamed mixture and mix well. Drop spoonsful (about the size of a walnut) onto ungreased cookie sheets, and bake at 350 degrees for about 12 minutes, or u

ntil lightly browned around the bottom. Allow to cool briefly before removing from pans.
At Christmas time, add crushed candy canes or packaged crushed pepper

mint pieces.

Tasty! (I recommend using parchment paper on your cookie sheets, though, because the melted

candy will stick.)
For chocolate cookies, decrease the flour to 3 1/2 cups. Add 1/2 cup each of cocoa powder and

finely chopped walnuts. Ummmm!
For lemon cookies, add grated zest (peel) of 1 lemon and 2 tsps. lemon juice

OR 1 tsp. lemon extract. Roll balls in sugar before baking.
Okay, one last poem before I sign off. This one is a particular favorite, and goes quite nicely with the Hintermeier picture, too. I hope you enjoy it

.

October's Party

October gave a party;
The leaves by hundreds came—
The Chestnuts, Oaks, and Maples,
And leaves of every name.
The Sunshine spread a carpet,
And everything was grand,
Miss Weather led the dancing,
Professor Wind the band.

The Chestnuts came in yellow,
The Oaks in crimson dressed;
The lovely Misses Maple
In scarlet looked their best;
All balanced to their partners,
And gaily fluttered by;
The sight was like a rainbow
New fallen from the sky.

Then, in the rustic hollow,
At hide-and-seek they played,
The party closed at sundown,
And everybody stayed.
Professor Wind played louder;
They flew along the ground;
And then the party ended
In jolly "hands around."
If you'd like to leave a comment with a favorite autumn or Halloween memory, I

'd love to hear it!
---
Have a suggestion or would like to leave feedback?
Leav