I almost thought I wouldn't make it with the blog today. I've been fighting headache all day and after taking doses of two different prescription remedies I was more or less in la-la land until an hour or so ago. I did manage to ship 4 packages today. I just hope I got the right items in the right boxes! I shouldn't like to have a bunch of dis

gruntled customers.
I was casting about in my mind for something I could relate and decided it would be fun to hear about gift exchange memories. I've had a few doozie

s, and perhaps you have, too.
Remember in school how there was always a party the last day before Christmas vacation? (We didn't call it "Winter Break" back then.) A few weeks beforehand each student had drawn the name of a fellow classmate and the idea was to get them a modest little gift of some sort. Usually it was the mothers who got stuck with the job of finding something acceptable within the price

limit.

In my day I think you couldn't spend more than 50 cents or so.

On the glorious day of the class party, these presents would be exchanged.
Oddly enough I don't remember what I received at a single one of these parties, though I do recall a wonderful gift from my fifth-grade teacher. She gave each student a little ceramic bell, shaped either as a Santa Claus or an angel. I got an angel. How I loved that little ornament! For years and years it had pride of place on my Christmas trees until it finally got broken

.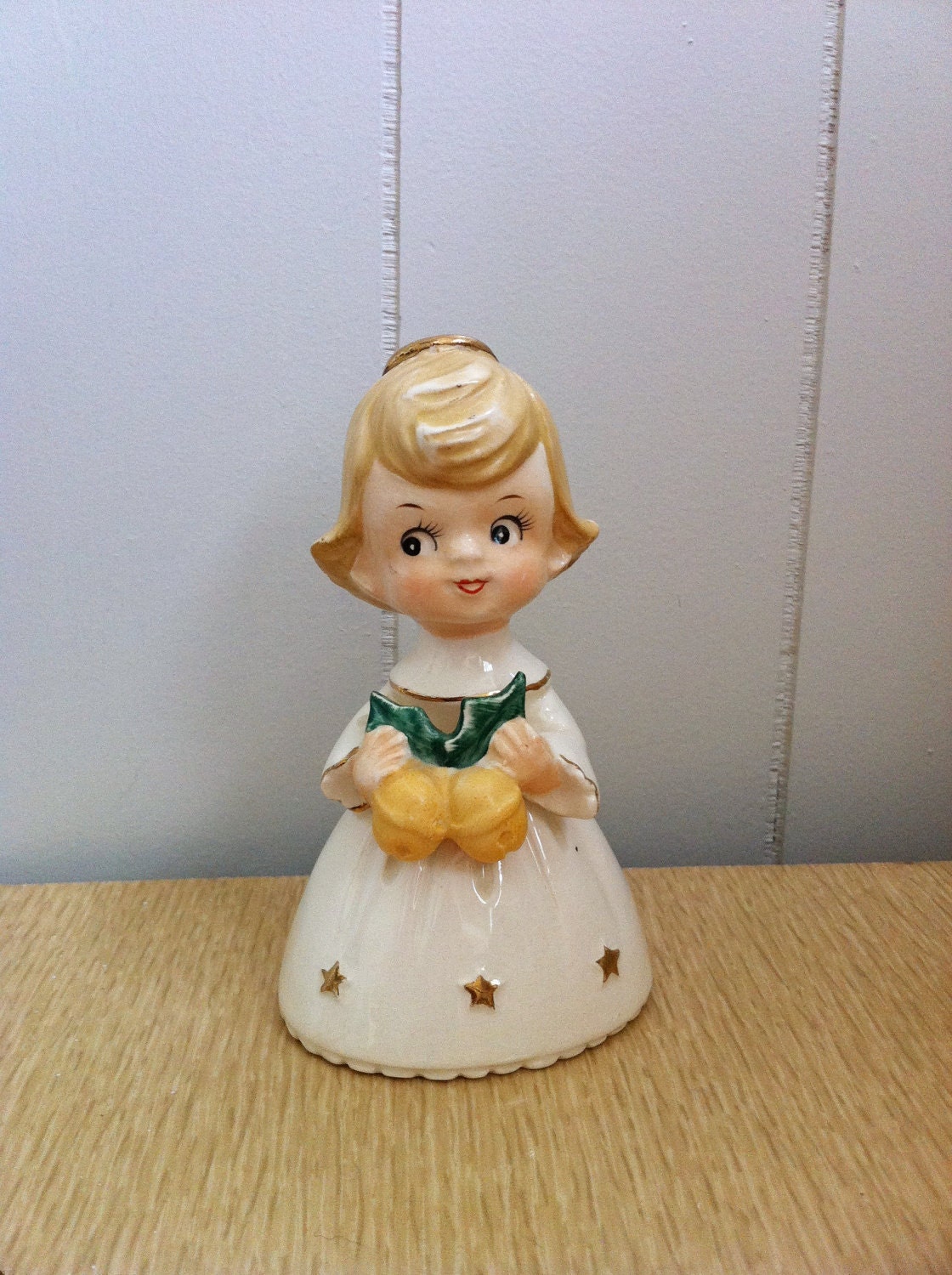 This isn't my angel, but it's similar to the one I had.
I suppose the fact that I don't recall any major disappointment related to one of these gifts means I must have been reasonably satisfied with what I re

ceived.

My sister, though, always had terrible luck at these exchanges. I can remember her getting some of the nastiest little dollhouse dolls ever manufactured in the history of mankind once, and another year, she got socks. Socks. For a children's party gift. Some

mom

apparently had a sadistic streak there. (On the other hand, my sister was a pill, so maybe this was justifiable payback from some aggrieved classmate.) These are just a couple of examples, but it never varied

, becoming

a joke by the time she'd moved

on from elementary

school

.
I got my turn at the proverbial disturbing exchange gift some years later at a women's Bible study of which I was part. An older woman gave me a small braided rug she had made of old nylon stockings. It was much worse than that sounds because she hadn't washed the nylons, and the rug just wafted the

odor of dirty feet. Poor gal--I know she tried!
My dad's family had a yearly gift exchange.

Every December w

e got together at one of

my aunt's and uncle's houses for a big dinner and afterwards everyone got to open his present.
The first year I was old enough to really grasp what was going on I was about three or four years old. I remember it so vividly because my mother had drawn my cousin Marilyn's name. Marilyn was the cousin closest to me in age, and also my very best friend.
Mom had picked out the most marvelous gift for her: a

large, child-sized

cloth doll with elastic loops on her feet. The lucky girl who got one of these dolls would put the elastic loops on her feet, hold the doll's arms, and waltz or polka to her heart's content. Oh, how I coveted that doll! And I wasn't even allowed to

try it out!
The doll looked something like one of these

. Maybe some of you remember them?
Anyway, on the great day of the gift exchange, I was very keyed up, wondering what similarly fabulous item it would be my joy to take home. All and sundry were ooh-ing and ahh-ing over their presents, but for some reason I didn't have one. I tugged at my mother's sleeve and asked when I was going to get to open

mine.
Smiling brightly (she was surrounded by in-laws, after all) she pointed to my present. On top of the piano. Not even wrapped. It was

...
A basket of fruit. There wasn't even anything to unwrap! My cousin had this marvelous doll and I got groceries.

Do I have to spell out to

you

the reaction of a wildly disillusioned and disappointed, very envious child to a basket of fruit?????
My poor mom had her work cut out for her to try and quell my wails of disgust and vociferously ungrateful exclamations.

I learned later that it had been a college-aged cousin (a guy, naturally) w

ho had picked this out.

I rather doubt he even knew or remembered which relative he was supposed to choose a gift for, he just knew it was the family Christmas gift exchange, and he grabbed the fastest thing he could think of on his way home from the university. Lucky me! I told him a

bout this decades later and we both got a good laugh out of it.
I'd love to hear your stories! Won't you share them?