Etsy is a great social outlet. It beats Face-Slap all to pieces. Every week I get wonderful, chatty "convos" (messages) from other Etsians,

both buyers and sellers.
Last week I had the pleasure of talking with a terrific lady

named Anjie

who collects Pyrex, Fire King, and all sorts of

delightfully tacky plastic

. She sent me photos of her fabulous collection and said that I might share them with you. Oh, oh, my!!!
I warn you, mid-century vintage afficionados will find this a perilous post

to peruse.

ENVY ALERT!

ENVY ALERT!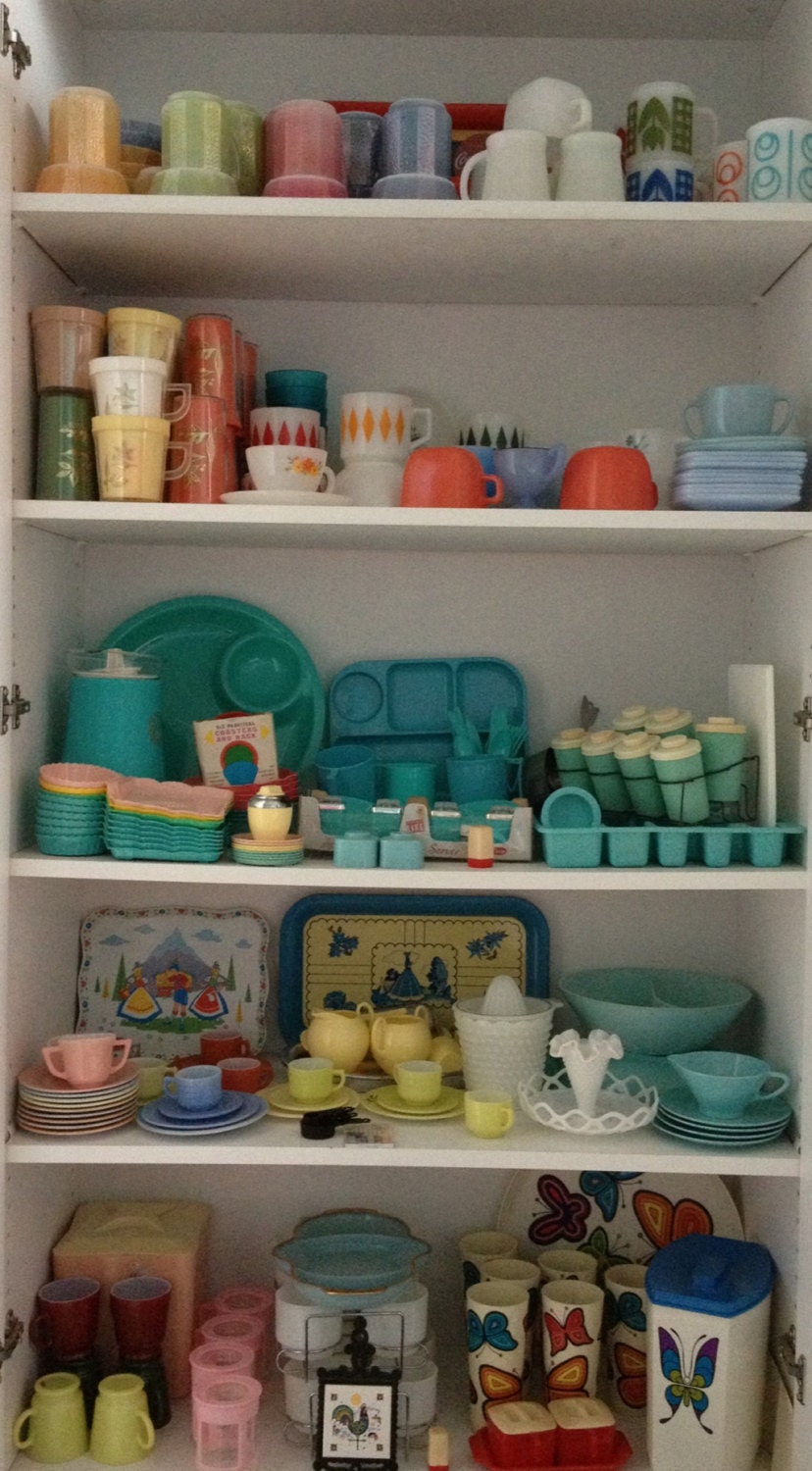 Let's see, I have the same orange glasses on the left side of the 2nd shelf, and the same blue melmac pieces on the next-to-the-bottom shelf.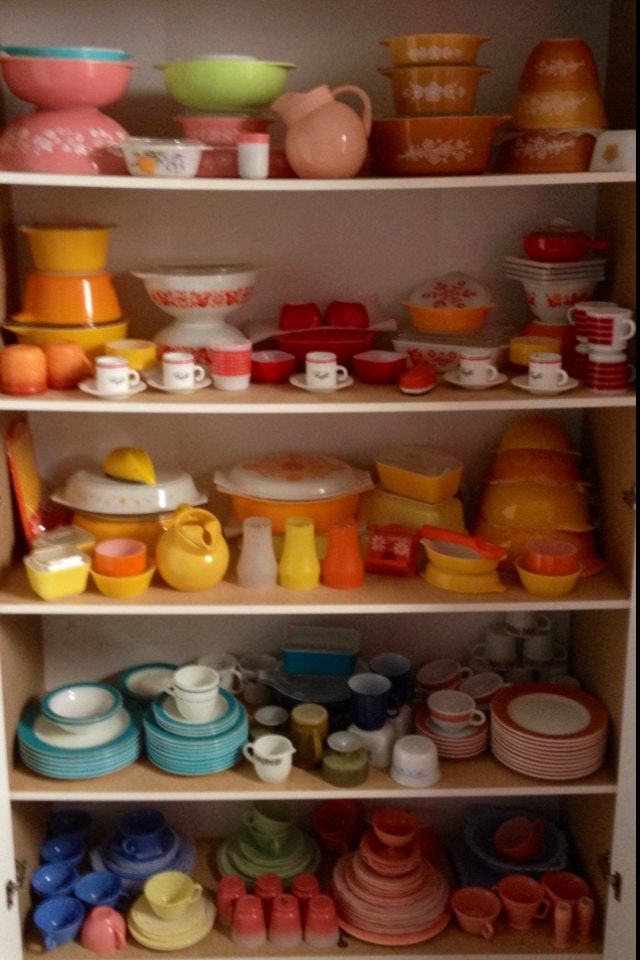 Here I see the same harvest gold Pyrex bowls that I have on Anj's top shelf. I sure love her yellow and orange pyrex!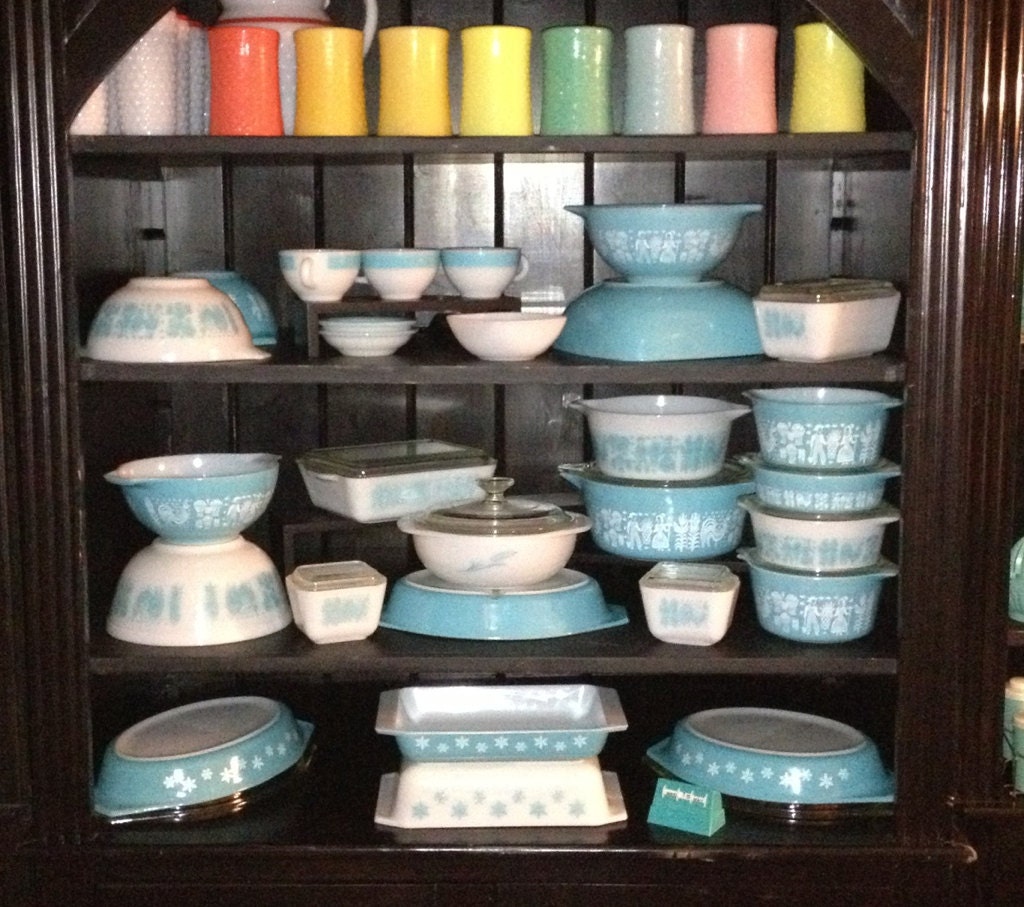 I hesitate to tell you that these are not

all

the photographs Anjie sent to me. She has more. (I'm not sure which I'm most envious of--her dishes, or her cupboard space!) Isn't it marvelous? I am in awe! I am drooling! I am breaking the tenth comm

andment!
Do you have any of the same pieces? I've got some, but it's a drop in the bucket compared to this extravaganza.
I must say, I'm inspired to do a better job of displaying my own collections now. I'll have to do some

thinking about that. I've also been motivated to prepare a viewing of one of my own collections for you tomorrow! Yes, TWO postings in a row!!
Do I hear a "Hip, hip!"

?