Vintage Child's Mug, No Manufacturer's Mark
I'm just two days in to my vacation from Etsy and I'm making some real progress tackling various too-long-neglected household projects. One of those projects was to dust, wash, and rearrange my collection of vintage kitsch cats--my "kitchen kitties--and that being done, I took some photos to share with you.
Like most collections, this one evolved gradually without planning or intent. While I was in my early twenties, I found an unusual vintage green and white spotted cat pitcher with lid in a local antique store. Over the years, I found two similar ones in pink. Later I began adding fun, kitschy cat salt and pepper shakers. As the numbers began to increase, I decided on one rule, occasionally bent, but rarely broken: that anything I added to the collection had to be an item actually intended for use in a kitchen, and not merely a figurine.
The large pitcher on the left side was the collectible that started it all. The lid is no longer, unfortunately. Years later, my daughter found the other pitchers at an antique mall back east, and just this spring, she found the tiny kitten (front row, left) while on a business trip in Japan. He's one of my exceptions, being simply a figurine, but he so obviously belongs to this set, I wouldn't dream of separating them. I've tried in vain to learn more about these pitchers. Apart from their being made in Japan, I haven't been able to find any information.
Here are my two pink cat pitchers of the same general style. The tall one is marked "Oil". Again, they're made in Japan, but that's all I know.
The next largest part of my collection consists of Holt-Howard figures... salt and pepper shakers, mostly--I'm not showing you the whole bunch--and also the large string holder (the big cat head) and a letter holder. These are very intriguing. I love the way the eyes differ slightly, depending on which artisan in the company did the painting. Also, the salt and pepper shakers each contain a sound mechanism. Mine no longer function, but I'm guessing they must have meow-ed originally. These are very collectible, so if you see them at a reasonable price, they're worth snapping up.
These are among my more unusual kitchen cats. The large one with the rattan handle was designed to hold crackers, or so I was told. The little mug in front is a 1/4 cup measure. I've never actually tested it to see how accurate it is. The planter in back could have been intended for a nursery decoration, but the glaze color and style is so similar to the other two that I like to keep them together.
These three kitties are incomplete and/or damaged, but still charming. I probably couldn't afford them otherwise! The blue cats are the Lefton "Miss Priss" line. I have no lid for the teapot nor for the sugar bowl (I guess it's a sugar bowl). The saucer beneath the sugar bowl has been cracked and reglued. The yellow kitten is a lid from a honey or jam pot. She's called "Winking Kitty", as near as I can find out, and is by Lefton. Some sellers list these as "Enesco Lefton"; I'll have to try and find out if there's a difference.
I've got to show you a gorgeous photo I found on Etsy, using a Miss Priss teapot like mine as a vase. I LOVE this! The item has been sold, but the seller does have other Miss Priss items available.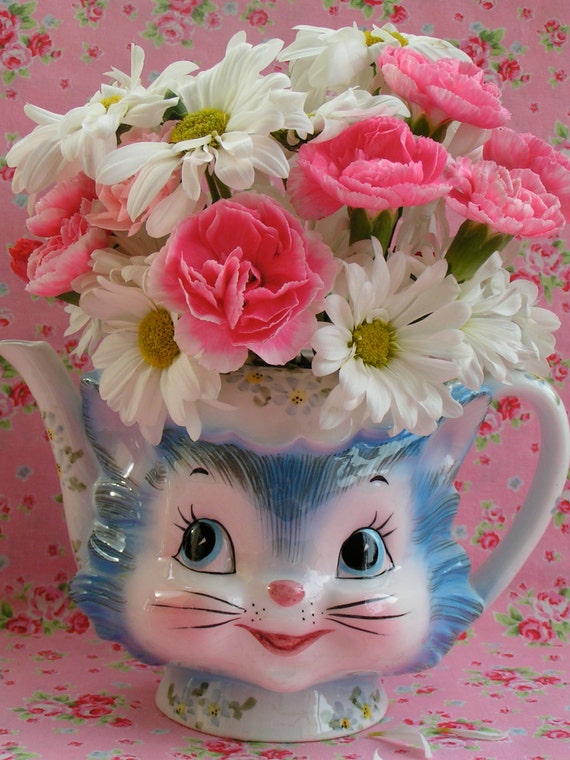 Please visit: www.etsy.com/shop/KittyKatDance for other Lefton collectibles.
Here are more salt and pepper shakers. The three in the center are unmatched. Don't you love the pouty expression on the yellow kitten? He strongly resembles the Holt-Howard cats but has no label. The tall pepper shaker in the back is perhaps my very favorite. He looms over the others like a good-natured big brother.
These are the only plastic figures in the collection. The yellow and green cats date probably to the 1950s. The white kittens are have the same sound mechanism as the Holt-Howard shakers. I'm guessing these date to the 1960s - early 1970s.
Here's the gang, all together and on display in the kitchen hutch. There are a few I didn't show you; they're either items I've listed but not yet sold on MyPalPeppy, or items I intend to list after I've enjoyed them myself for a while. I'm so glad they're all clean and sparkling again!