Hi, folks... I see you found me! The fact that you were even looking amazes me, as I've pretty much gone to ground in the last few weeks.
Right before my son headed back to college, I got him to help me change the website address for the blog. Since I'm no longer selling on Etsy as "RedLetterDayBags" it seemed kind of silly to keep the name, so we changed the blog address. It's now SheerTrashRoadshow.blogspot.com. However, I forgot to post any sort of announcement about the upcoming change until after we'd updated the address, and then it was too late! My apologies for the confusion.
Actually, though, you haven't missed anything, because I've been too burned out to post anything.
I've gone into hermit mode this week in order to recover my sanity, and with the help of Miss Marple and the much-needed solitude, I'm beginning to feel like I don't really want to wreak havoc on the entire human race, and that I really would enjoy touching base with a few select fellow beings once again. Kindred spirits like you, for instance.
It's been heavenly to plug in good old whodunits on Netflix and sit down with yarn and crochet. Right in the middle of the day, no less!
I'm making poodles again!
Yesterday I made and shipped a copy of my famous "Canine in Red" to a buyer on the east coast.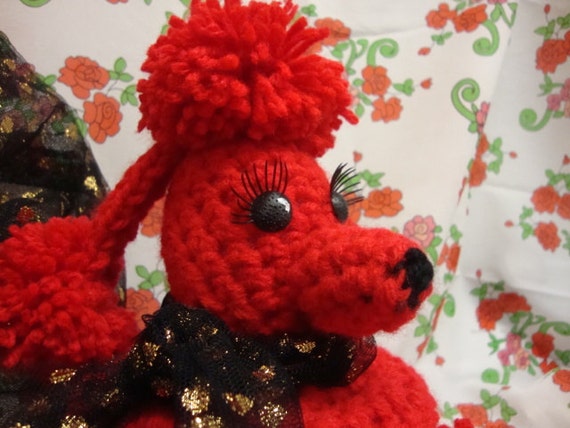 The last time I made poodles, I remember finding the construction part very tedious--all those bits and pieces to fasten together. It pretty much stopped me from making any more, but this time, with the distraction of the movie, I found myself whipping those pieces together with ease, and so I decided today to make another one.
Here is my newest toilet tissue cozy introduction, the Patriotic Poodle. I figure this is a timely design, considering the way our constitutional liberties are being so enthusiastically flushed down the drain these days.
Surely no bathroom is complete without one! And I've already gotten started on my next model, but you'll have to wait a bit as I've run out of the proper color yarn to finish up with.
Well, I'll stop for now. I'm creeping back into society slowly... Perhaps it's as well!