Don't worry--I haven't forgotten about that gravy tutorial! Lesson one, at least, will be coming up this weekend.
But in the meantime, I'm curious if anyone out there can help me identify a couple of vintage goodies. I'd like to list them on Peppy's site, and it would help if I had more information.
Have any of you ever seen these before? It's driving me wild because I'm sure I recognize these creatures. Something from the 1970s.... Sort of Monty Python-ish, or Scream Yellow Zonkers-ish. These are rubber refrigerator magnets I ferreted out of a cup full of pencils and dried up ink pens sitting unnoticed on a shelf at an estate sale last month:
I did some quick looking around on Etsy, and it's surprising what some 1970s-era magnets are going for! I don't need them, and it'd be great if the sale of these could help raise funds for dog rescue operations. Displaced Pets Rescue recently acquired a sizable group of hoarded puppy mill chihuahuas and they could use all the help they can get.
On a more mid-century note, I have these terrific modern art/cubist style cats. These were made in Japan and they have a maker's label--I just haven't been able to identify it. And I'd sure like to know what they're worth.
I did find a seller on Etsy who owns original 1960s molds in this style and she is making new ceramics in this vintage style. They are SO cool!!! You have GOT to see her work, it is fabulous: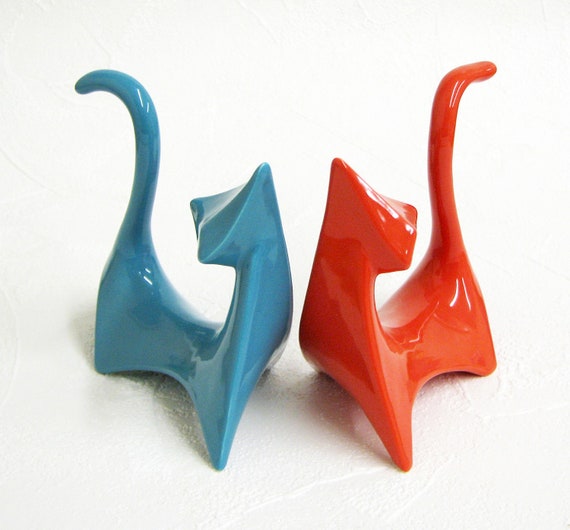 The artist's name is Dana Flemming and her shop is Desert Arts Pottery. I sent her photos of my white and gold cats, and this is her reply:
Hi Victoria,

Amazing! I have never seen your cats before and was so surprised when you contacted me.

I really can't help you very much with the identification of your cats.

What I can tell you is that I create my cats from a vintage plaster ceramic mold that was produced in the early 1960's. It is a very rare mold and you will notice that there are a couple of sellers on Etsy that do have the same mold but again, these molds are extremely difficult to find.

I would say that the cats that you have were inspired by the American made molds simply because Japan didn't have a retro cubist era of their own. As far as a maker...I haven't a clue. I wish that I did know because this is all so interesting.

Regardless of the maker, of lack thereof, I have yet to see the cats that you have on either Etsy or eBay so I'll stick my neck out here and suggest that you not price them too low.

By the way, if you see other cats like mine that are in the vintage category it simply means that the cats were originally purchased unfinished from the many ceramic shops that were around in the 60's, 70's and 80's. They were then stained or glazed by the hobby buyer. They are vintage items but they were not produced by a factory and anyone could buy and finish them. This is what makes your cats so unique!

If you search for "ceramic modern cats" on Etsy you will find two other sellers (I think) that also have these cats. Perhaps they will know more than I do.

Thank you for your kind comments about my shop too :-) I'm off to explore your shop!

Good luck!

Dana :-)
Anyway, if any of you out there have any additional information about either of these items, I'd sure appreciate hearing from you!
Meanwhile, on another note--20% of all purchases made from MelmacParadise during the month of November will go to help relief efforts in the Philippines after this ghastly hurricane.
I'll be back later... I did promise you those holiday cooking horror stories, though I may have to leave town and assume a new identity after I publish them!