It was not an auspicious day for garage sales; our weather, after a 2 or 3 year halcyon departure from the norm, has reverted back to its customary chilly, rainy spring pattern. There aren't many sellers willing to face the challenge of setting up a sale under these doleful conditions, and I can't say I blame them. But I live in hope!
This morning my husband needed to drive into town for some plumbing parts, so I tagged along to see what I could see. Which was zilch. Then I endured 45 minutes of crashing boredom in the plumbing supplies store, after which my husband was feeling sorry for me and offered to drive me to Goodwill.
My find there was a jumbled bag of vintage toy tea set pieces, for which I forked out $6.99. I've been trying to find some little cups and saucers for my granddaughters to play with for a long time, but have been repelled by the ghastly Disney-character atrocities available in the local department stores. So I was happy to nab these, even though I couldn't see them properly in the bag.
Here's what it looked like when I opened it and spread the pieces out:
All of them are marked "Made in Japan" and have no cracks or chips--or at least, none big enough to worry about.
This set appears to be newer than the others. Even so, it's decades old!
The leaves on this set appear to have been done in gold, though much of it is worn off.
These little firework cups and sugar bowl are so much fun! I've sold two of these sets,
in their original boxes, in my Etsy shop. But these I will keep to be played with.
Last of all, there's a lid that doesn't fit any of these dishes, and a dear little rose cream pitcher.
I think I will keep it on display for myself!
On the way home, we detoured through some older neighborhoods, and in one we stumbled across a moving sale and a church rummage sale. Did I find any goodies?
Yes, I did! This is my haul, it cost me $3.00 total. Here's a closer look:
The bear-shaped jar I got for 5 cents! I just checked to see other examples of this type of jar on Etsy, and was intrigued to see that the jars vary slightly in design. They seem to be Kraft peanut butter or jam jars (the lid on mine is marked strawberry jam) and date to 1988 or so. Prices are in the $10 - $20 range.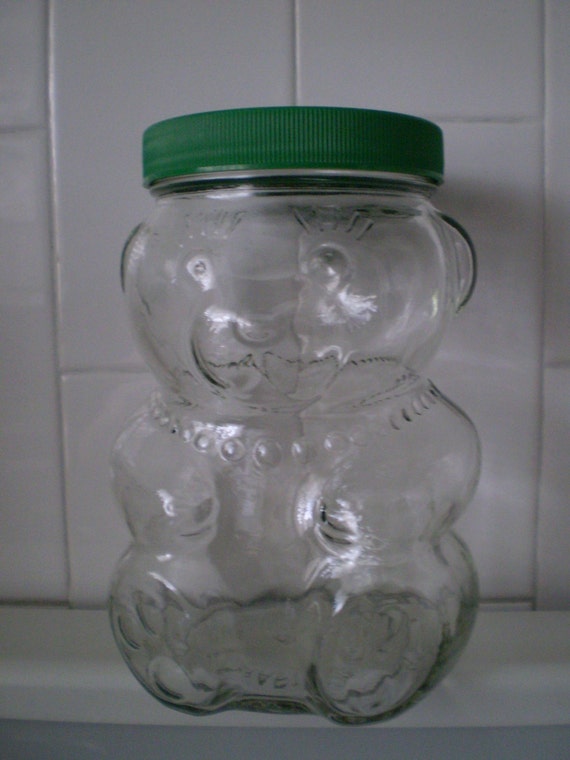 This bear is a girl! She's available from Etsy shop, Bizzard.
The little crocheted egg cozy chick and the pink thermoset earrings are strictly for my own skewed enjoyment. The chick cozy can keep company with my poodle soap cozies in the bathroom, and the earrings--well, I'll be wearing them, of course! I adore vintage thermoset! And the mid-century wire letter holder dog I'll keep for a while, but will probably eventually sell him. These goodies are really collectible, so if you see one, grab it! Here are some delightful examples from Etsy:
I'm always pleased to find one of these vintage plastic nativity scenes. This one's in good shape, and it's marked "Made in Hong Kong", so I know it's old and not just a modern reproduction. Once I found several of these, in their original little chipboard boxes, in an estate sale freebie box! That was a fun day. These sell well on Etsy, if you can bear to part with them.
Okay, this post is getting really long-winded so I had better wind up quickly. Just one more goodie! Take a look at this handknitted tea cozy shaped like a cottage! The detail is really amazing. It even has a little chimney. I'm going to study this and see if I can adapt the idea for my own designs.
Handknit tea cozy. Cost, $1.
Okay, calling it a day here. I do have a facebook page up now; hope you'll check it out and "like" the poor lonely thing! And the shop will be open for business again in just a few more days.