Hey, I promised you a look at the new poodles I've been making. So, without further ado, I present the summer 2016 line of useless tacky toilet paper crocheted poodle cozies in order of their recent appearances in my shop.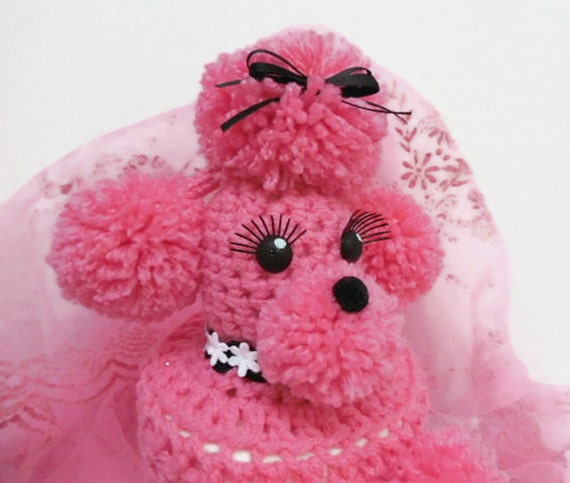 www.etsy.com/listing/400620407/kitsch-fifties-style-pink-toilet-tissue
First off, my bubblegum pink poodle. Or poodles, actually, since I made more-or-less duplicate poodles in two different sizes: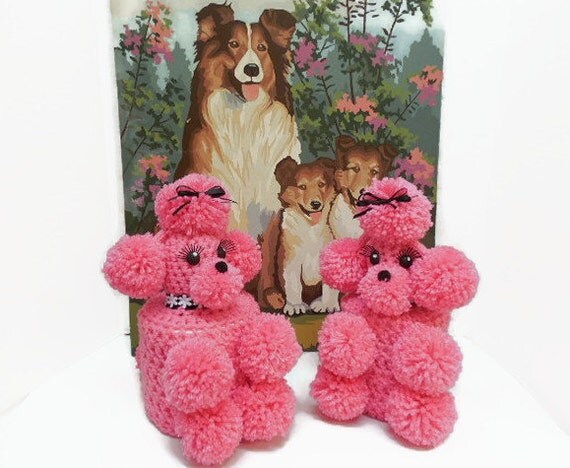 A size for either a MODERN sized roll (4 1/2" diameter) or the smaller TRADITIONAL sized roll (3 3/4" - 4")

I have a special penchant for the pink poodles.
Next, let me introduce my classic white poodle cozy, looking quietly sophisticated in her strand of blue pearls. (I decided it might be nice to make poodle cozies in colors of real poodles for a change.)
Keeping that thought, I whipped up this nutmeg brown fellow next. He's so handsome!
And while grey (or silver) poodles are certainly real poodles, I had to indulge in a bit of whimsy on my next one. She is a cowgirl...er, cowdog. Cowbitch? Okay, I am SO not going there.
My next attempt at a realistically-colored poodle presented me with some difficulties. I wanted to make a lovely chocolate-brown poodle like some I've seen in photos. The difficulty, though, as I soon discovered, is making the features stand out against the dark-colored yarn. I had to contrive a bit. It was necessary to forego my usual plastic eyelash eyes and to use teddy bear eyes and sequin lashes instead. I also add a felt tongue to bring some measure of contrast to all that dark brown.
I don't know how I'll ever manage to turn out a plausible black poodle. (Plausible, she says. A plausible crocheted poodle toilet paper cover. Uh huh. Well, good luck with that.)
In fact, I've given up on this idea--at least for now. And I've gone back to sheer nonsense: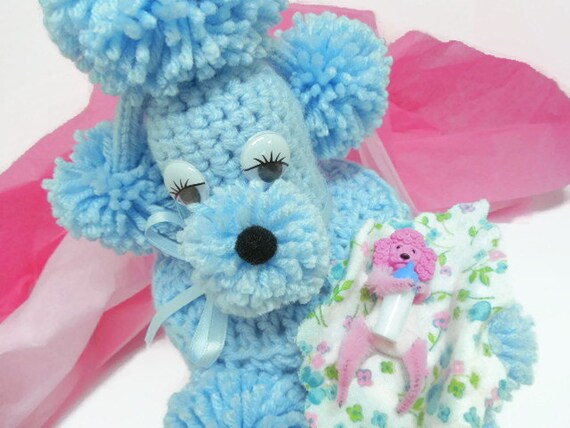 Presenting my latest masterpiece, the Droopy New Dad poodle! The baby was fun to work on--you've got to have a closer look. I was fortunate enough to find resin cabochons for the head. Just wish I could get other colors!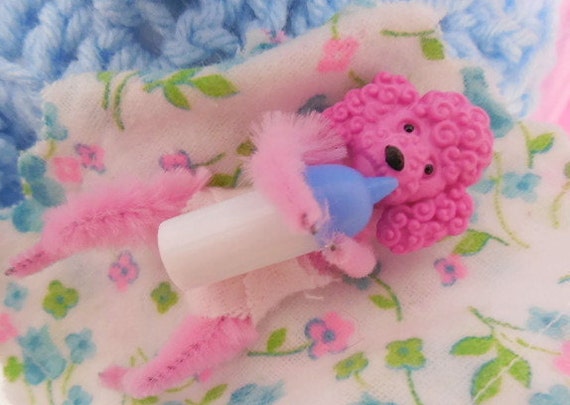 I'll probably take a hiatus on poodles for a bit now unless I get a custom order. I have been experimenting with a cat toilet paper cozy, but so far I'm not happy with how it's turning out. If I manage to get it tweaked into something I can live with, I'll share it, too.