This morning my good man and I visited a few yard sales and I'm proud to say I kept myself under reasonable control. I brought home a modest assortment of loot, and not enough to pile my table high with its usual Etsy staging ground clutter.
I had a lot of fun digging through a boxful of children's books and found a stackful (only showing you a few here) of vintage charmers for 10 cents apiece. I adore these old books!
Another sale yielded two items I am excited about: the unicorn, and the Limoges-style music box.
The unicorn is fabulous in his wonderful mid-century nursery colors of pink and blue. He's good sized, at 7 inches tall, and he has no chips or cracks. When I saw him priced at 25 cents, I was fearful he must be glued together someplace, but careful scrutiny proved he's hiding no repaired breakage. He was rather dusty and grubby, but after a clean-up at home, you can see just how pretty a fellow he is! Then I had a surprise. When I read his stamp underneath, it said CHINA. Not Japan, as I had assumed. I know this is fairly old, but I had no idea China was manufacturing figurines of this type in mid-century. China from China, imagine! I am continually learning.
After nabbing that treasure for a mere quarter, I felt a bit more generous and gave the proprietor $3 for the music box. It's tarnished, but it plays beautifully--"bell-like", my son described it. The tune is not something I recognize, which is unusual. I'm pretty much up on the genre of music box classics, pop tunes, and movie theme songs. The manufacturer is Sankyo, and I did a bit of researching prior to posting this, and found that Sankyo is the largest manufacturer of music boxes and music box components in the world, and that they began producing these after World War II.
One thing I don't understand is that this box will only stand upright when the lid is closed. The moment you open the lid, the piano keels over onto its side. Either one was meant to store weighty little keepsakes inside, or something is missing. The legs aren't broken, so it's not that. I'll have to do more checking into this.
What's next? Oh, the NOS ("new old stock") or MIB (mint in bag/box) small satin Christmas ornaments. These ones are pre-barcode, so I know they're fairly old. I paid 25 cents apiece for the packages. I have an idea for a craft or two to make with one of the packages, but the others I'll try and sell. They were popular back in the sixties and seventies, when they were embellished with beads and ribbons, like this: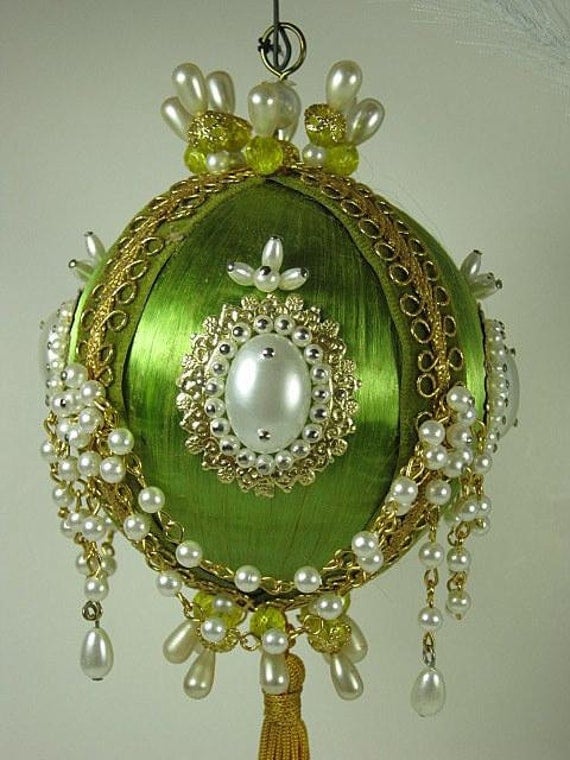 http://img1.etsystatic.com/000/0/6301170/il_570xN.284484053.jpg
The more unusual shaped ones are the more sought-after. Last winter I quickly sold these flattened "saucers", as one buyer called them. I'd like to find more of these!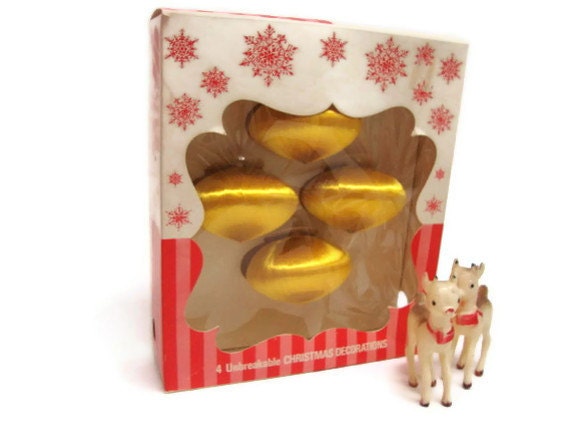 For Peppy's shop, I was pleased to find this very pretty china (porcelain?) figurine of a beagle
:
He's in perfect condition, though I worried about his long, thin tail all the way home. It's hard to see against the white background, so I'll have to find a better way of photographing him before he's listed. I paid 50 cents for him, and the seller gave me a little hippo figurine for free:
He's so cute, but he has the tiniest little chip off the tip of his left ear. I may play around with a bit of camouflage in the way of black paint. It's such a tiny chip, it's a shame to relegate Little Hippo to the scrap heap.
Now for the piece de resistance of today's junking. I have been on the lookout for one of these things for years and I never expected to find one in this near-mint (maybe it is mint?) condition and I would never have believed I could have bought it for only $2.00!
BEHOLD.................. The Kohner BUSY BOX!
This wonderful toy harks back to the early 1960s. I know, because my younger sister, who was born in '63, had one of these in her crib. I don't remember if she played with it much, but I know I did! I loved this thing. I wanted one when my own kids were babies, but couldn't find one. This one is pristine! Everything works, from the cranking windmill to the clickety-clackety car, the squeaking mouse, and knob that turns the little pictures round and round.... I could go on and on with raptures over each and every element. I should sell this, but I don't know that I can bear to part with it. I do need to remove the price sticker, but I want to be extra careful because some of the adhesive removing solvents can be damaging to vintage plastic. I found that out the hard way. But not to worry--a little bit of something greasy (like butter), if left on for several hours, will usually loosen the adhesive.