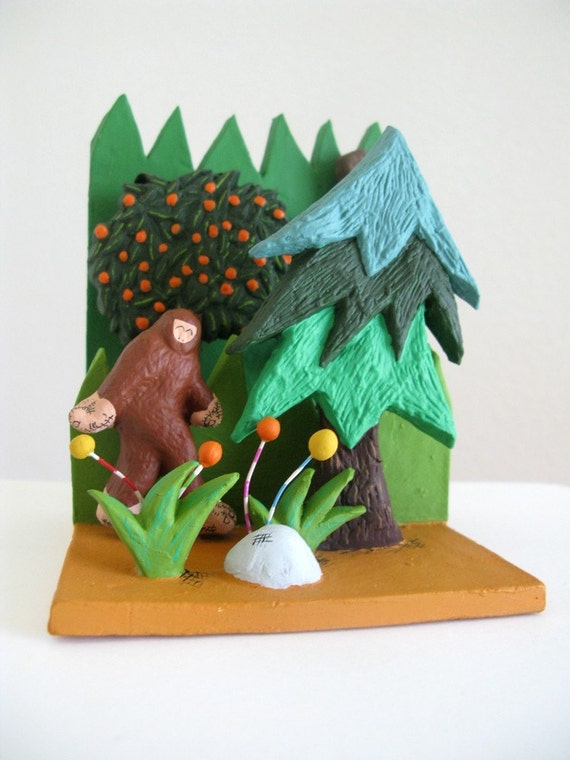 https://www.etsy.com/listing/54641959/bigfoot-diorama-limited-edition-ceramic
Every now and then I run across something on Etsy that just makes me laugh out loud with pure enjoyment. Like as not, those items are related to Bigfoot.
We're "big" on Bigfoot in these parts. Many in my circle of acquaintance have either had a bigfoot encounter, or they know someone who has. I'm not going to tell you which of the two categories I fall into, but I am going to share some of my favorite Etsy bigfoot items.
First of all, I'd like you to check out PearsonMaron.etsy.com. This artist is a kick! Not only did he create the above diorama, but how's this for a wedding cake topper?
And if Bigfoot's not your beat, he does Nessie as well...
...and lots of other splendidly absurd and delightful pieces of art.
Another of my favorites is this simple pin:
So appropriate for all the naysayers! Succinct, pithy, and certainly indisputable. These are a steal at only $1.50 and you can get yours from theangryrobot.etsy.com.
Now for absolute cuteness, I don't think you could do much better than to get one of these chenille ornaments from seasonsart1030.etsy.com. She made a special white bigfoot ornament for me last Christmas, and she makes many other wonderfully wacky creatures as well.
Actually, this is is not at all what I intended to blog about today, but I got sidetracked. You'll get the "real" post later on... In the meantime, enjoy!
My favorite Sasquatch hunting buddies...!