Coming and Going by Norman Rockwell
Did you grow up with the dreaded tradition of the "Sunday drive"? Back in the sixties and seventies before gasoline prices became astronomical, it was a common recreational practice for families with kids. Probably because it was cheap entertainment.
I used to hate those drives! Crammed into the back of the station wagon with my similarly disgruntled siblings, my chain-smoking dad tuned into sports commentator Howard Cosell droning on about some ball game or other while the rest of us squirmed and bickered and gasped for air, my mom gazing out the window at the scenery and doing her level best to ignore the backseat mayhem... My, what precious memories.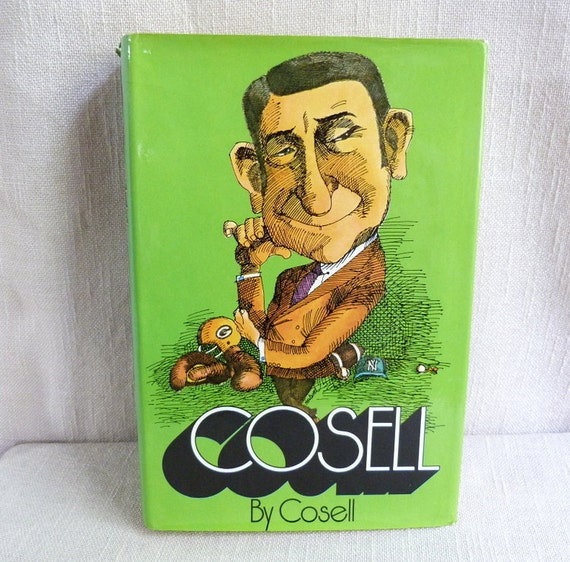 www.etsy.com/listing/110714003/howard-cosell-autographed-autobiography
Nevertheless, now that I'm nearing my dotage, I find I rather enjoy life on the scenic route, and on Sunday mornings, if my husband and I can get out of the house early enough, we like to putter along aimlessly on our way to church, taking a few detours just to see what there is to see.
Yesterday, we found a garage sale. Kind of surprising since the weather's turned misty and damp and, usually by Sunday, most people have gotten sick of the whole yard sale shebang and declared themselves finished.
I'm so glad we stopped! I found the most wonderful seventies figurine...
Heavy flower power plaster figurine, $1.00
and this nifty painted and decoupaged washboard...
Vintage washboard, $2.00
and my husband pulled a plastic birdhouse out of the free box.
I agree it's rather ghastly, but it's old, plastic, made in the USA, and animal-related, all of which means I snared three items for Peppy's shop. That doesn't always happen!
Speaking of Peppy's shop, the little stuffed cat I'm making is coming along a treat! I can't believe how much easier it is to make a toy from an old sweater than it is to sew one with felt. I'm going to fill this with all-natural wool doll stuffing from another Etsy seller, www.etsy.com/shop/suzanneartley. And then this pretty kitten will go on sale, helping to raise funds for small breed dog rescue here in the Pacific Northwest.
Here's a progress photo:
Isn't it sweet? I must acquire more old wool sweaters to shrink.
Now, I have fun news to share, but I've got to down a pot of coffee first, so check back later for an announcement!