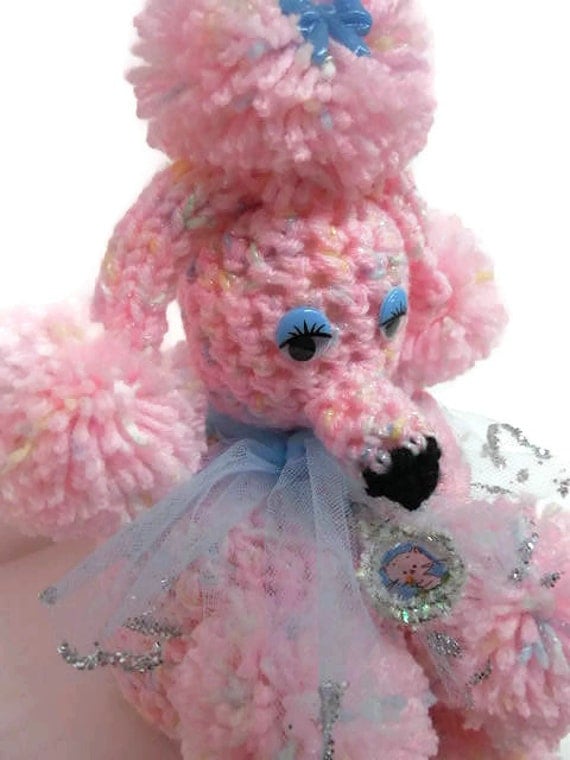 Yesterday, Pastel Pink Powder Room Poodle went to a new home. That makes six of these poodle cozies that I've sold so far, and this latest one hadn't even been listed for very long.
Some time ago I posted a photo of one of them on a crocheting site--sort of a "show and tell" affair, but I didn't keep up with that site. I was surprised, then, when the photo resurfaced on facebook last week and I read all these enthusiastic comments from crocheters wondering if I made the pattern available. I was going to share the remarks, but I've already lost that crochet site again (there are so many of them!) but it does make me think. I don't have a pattern for these--no two of them ever turns out quite the same--but I do have a method, and one of these days I need to photo the various steps and share them here.
This brings me back to my constant dilemma: To Etsy, or not to Etsy? That is the question. Much as I love everything to do with vintage collecting and selling, it eats up massive amounts of time, leaving me little for the creative projects I want to tackle. I need to rethink the situation and make some drastic changes. I may have to take an extended Etsy sabbatical after Christmas. Withdrawal symptoms are expected; does methadone work for that, I wonder?
However, that's a topic for another day. Right now I want to show you some of those vintage clothes and accessories I procured at the estate sale last week. Then I promise to shut up about it!
First out of the starting gate, I have this funky knitted tunic / mini-dress of red paisley figures on a black background. It's really fun and different. However, this next item has got it beat--it's pure seventies--a cross between a bib and a poncho:
Wild, huh? I remember wearing stuff like this when I was in high school.
I love this triangular shawl. It's unique in that it's not just granny squares, but granny squares and fabric squares combined:
It's so thick and warm, and in such a rich red / cream combination.
I got two wonderful suits at the sale. One is a fabulous tweed, and the other is this interesting flecked nubby fabric set:
I'd gladly keep this one, but the waist is impossibly small. Once upon a time, perhaps, but not now... In fact, all this woman's clothes were petite, and she apparently never got rid of anything she ever wore. Here's another great skirt, this one's made of acetate, I believe. It's got to date to the 1960s.
Isn't the pattern great? So "modern art" sixties... The fabric is very shiny, almost like satin. I'm going to try and handwash it carefully to get it ready for sale. It's too tiny in the waist for me.
Okay, let me break from clothes (yeah, there's more, but I won't try your patience further) and show you some accessories.
First, the belts... I'm not sure, but I think these were handwoven:
And how about these fabulous beaded sandals?! I tried these on for fun--they're a little big, and I won't keep them because my feet are more or less permanently encased in orthopedic monsters, but these are so vintage cool! They're in pretty good shape, too.
And how about this metal mesh-and-"pearl" headband? I couldn't believe no one else found this!
Well, enough about all this... I'm dedicated the rest of the day to housecleaning and yard work--both long overdue. It's a glorious day of "October's bright blue weather", as the poem describes it, and I've got to make the most of it. Rain will return, and with a vengeance...
Meanwhile, let me leave on a positive(ly ridiculous) note--me, rocking the new jackets and sweater! At only $1 apiece, I'm definitely feeling it!