Are you "into" Syroco? Homco? Dart Industries? That molded plastic stuff that kicked into high gear during the 1960s and 1970s?
It's quite collectible now and not just in its original state, but refurbished and updated in fun and kicky ways to reflect today's decorating trends. From Hollywood Regency designs to pure kitsch, you can find molded plastic resin plaques to suit just about any decor or interest.
Fortunately, even if you didn't think to hang on to the Syroco pieces of your mother or Great Aunt Ethylene, they are still pretty easy to acquire in garage sales and thrift shops and generally not too pricey. Yet!
That is bound to change, though, so snap it up now if you're thinking about it.
I've got tons of this stuff--well, pounds of it, anyway--tacked up all over the house.
My living room is mostly the shiny gold Hollywood Regency type:
But I have kitschy stuff, too:
I used to have one of these, but I sold it:
And I have one of these, hung low to the floor so the granddaughters can enjoy it. But this is such a great photo, I'd rather share this than mine:
I even have some giant pieces outside on my covered porch:
I could go on all day. But that's not what I intended to share, so let me get to the point.
Even though I'm just a crafting wannabe and a mere dabbler, those projects were easy and fun to do, and turned out quite well, considering I made them. Look what some of my fellow Etsians are doing:
All this is just the tip of the proverbial iceberg. Imagination is the limit!
But for those of us with minimal visualization talents and even less dexterity, let me show you a super easy retro treatment for your syroco plaques that really makes them "pop"!
Start with a basic plaque or set of plaques, like this Homco Mediterranean style pair: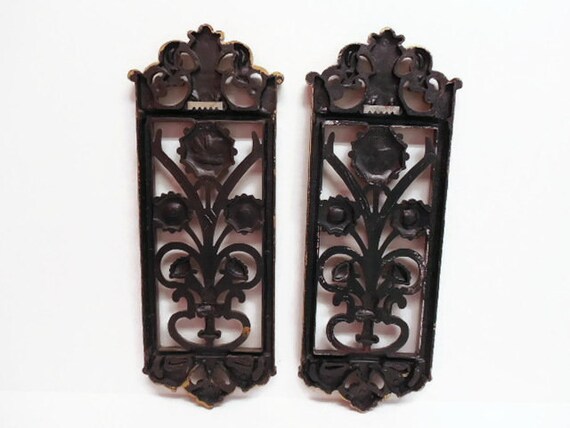 Apply glue to the edges and inside design. Any kind of glue will do; Elmer's is fine. Craft glue is fine. The benefit of using water-based glue is that if you tire of the result, you can change things easily.
Next, apply some colored felt and press it gently to the glued bits. (I suppose I should have said to measure and cut the felt first. Well, now I've said it!)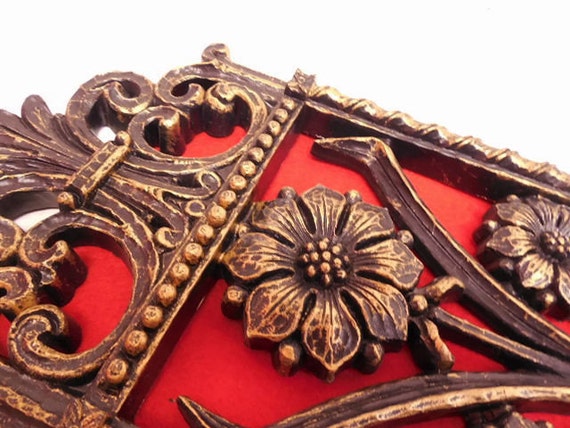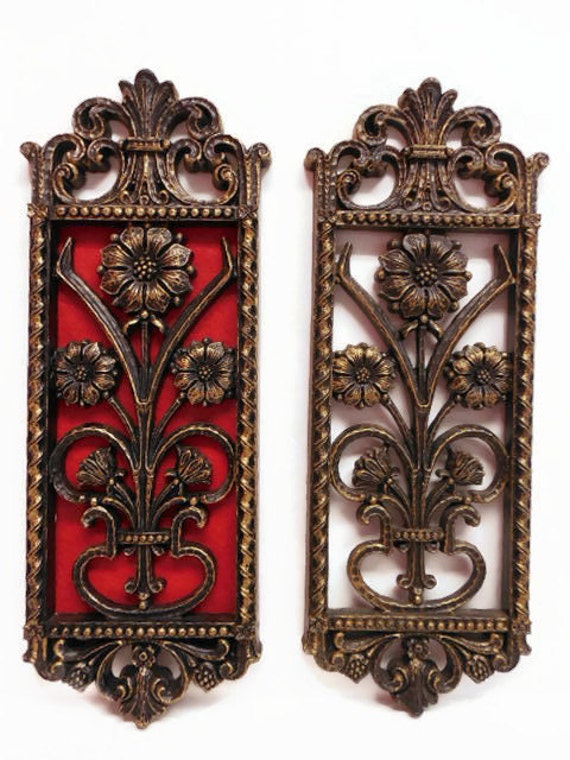 Let the glue dry, and voila! Cool, huh? And with the large rectangular stiffened felt pieces you can buy in any craft store nowadays, this would be a snap! Think of the great retro colors you could use: harvest gold, orange, avocado green... or go modern with hot pink and lime! A real mid-century craft idea and so easy and fun to do. Even your kids can do this!
I'm off tomorrow to a flea market; hopefully next time I post I'll have a few finds to share. So far, the pickings have been slim this year. Or maybe I'm just harder to please these days.
Many thanks to the great Etsy shops for their beautiful photographs and ideas--please spread the love and check them out!
aeroandcoVINTAGE.etsy.com
BeautiSHE.etsy.com
CherryBerryVintage.etsy.com
Fairyhome.etsy.com
gaudyfairy.etsy.com
KanesTrinkets.etsy.com
MaBelleChicBoutique.etsy.com
PanchosPorch.etsy.com
SchwinkShop.etsy.com
TimelessTreasuresbyM.etsy.com
TreasurePicker.etsy.com
YourHeart.etsy.com