Today I came across this beautiful hand-painted china platter by Etsian Brenda Marsh of PorcelainChinaArt and simply had to stop in my tracks and send her a message saying how much I admired it. What a lovely piece this is, and how I envy Brenda's talent!
I have a special place in my affections for peacocks. Not just because of their breathtaking beauty, but because of a couple of memorable close encounters of the avian kind with this prince of birds.
The first time was more than thirty years ago. My sister-in-law Claudia and I were driving to Yakima, Washington, and we stopped to eat at Maryhill Museum near Goldendale, where there was a little picnic area. (Isn't this a stunning photograph? Maryhill is the most unexpected and marvelous place, incongruously placed in the middle of an arid and desolate location.)
The picnic area was deserted, except for us.We had just seated ourselves at a shady picnic table and unpacked our lunch,when instantly we were barraged by a cacophony of jungle-like shrieks and calls, as if we'd suddenly been plunged onto the set of a Tarzan movie.
Startled, we jerked to attention to witness a horde of rampaging peafowl, galloping avidly toward us from every direction. If you've never been stampeded by dozens of peacocks, I can assure you it is a formidable sight, and I don't mind telling you I was frankly terrified. They quickly surrounded the table, and a few bolder ones even jumped up on the table. These moochers made Yogi Bear look like an amateur. They had learned to regard picnickers as a fast-food source, and they weren't shy about demanding to share our provisions.
Once we got over the shock, it was actually rather fun, though neither one of us got much to eat. The magnificent birds made short work of our sandwiches and cookies, but the brief encounter made a lasting impression I'm sure neither Claudia nor I will ever forget.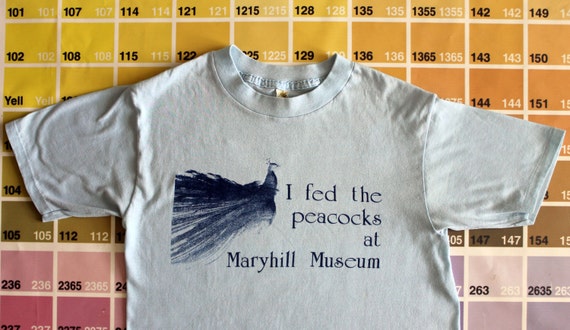 Oh, wow! I just found this! Available through Etsy shop WizardNixon:
www.etsy.com/listing/232123244/vintage-1980s-maryhill-museum-washington
Now fast-forward about fifteen or so years. This time I'm at home minding my own business; or rather, being a typical mom, I was minding my kids' business. It was a summer morning, and my older children had been invited to a friend's house to play, much to the disappointment of my youngest son, Wyatt, who was too young to go along. Poor little kid! Tears and gloom threatened to overwhelm his typically sunshiny disposition. He was sad, and I was sad for him. How do you make it up to a little boy who's feeling lonesome and left out?
Fortunately, God was not indifferent. Neither was He flummoxed. In what I can only consider to be an "everyday miracle", He graciously provided a most unexpected solution. Two gorgeous peacocks came walking sedately down our long lane and into the yard.
Where did they come from? I'm not sure. Some farm down the road, apparently, but how and why they decided to come calling on us that morning is something only they would know. They hopped up on our deck and peered in the windows at us. They walked around the house and stepped up to the doors whenever we appeared. They flew onto the porch roof and sat there basking and preening in perfect ease. The peacocks who came from nowhere stayed at the house most of the day, as though they had no other thought than to delight and entertain us with their presence. They were a wonder! Wyatt quickly forgot that he'd been left out of the fun his older siblings were having.
After several hours the two great birds left as quietly and mysteriously as they had come, never to grace us with their presence again. When his brothers and sister returned home,Wyatt had a tale to tell and the unusual sensation of being envied, himself, instead of the other way around.
It was a never-to-be-forgotten day. A stellar day. The day the peacocks came to call.