When I was a kid, my mom usually had a few favorite television game shows she tuned into every weekday. Concentration and Jeopardy are the ones I remember her liking most, but there were a few others I've forgotten. One thing I do recall is the fun of hearing what the contestants had won. Even the losers got goodies to take home. One of those consolation prizes was inevitably some kind of jewelry set by Sarah Coventry--items which meant absolutely nothing to me then, but which I find myself increasingly drawn to in my baby boomer middle age.
A couple of weeks ago I was at a garage sale (big surprise) and picked up a bag of mixed new and vintage costume jewelry that was marked $5.00. I'm not a big fan of buy-it-in-a-lot stuff generally as I know I'll get stuck with junk (dare I say, sheer trash?) that I don't want. But this time I saw this glorious pastel floral enamel brooch beckoning from inside its clear poly prison, and all bets were off :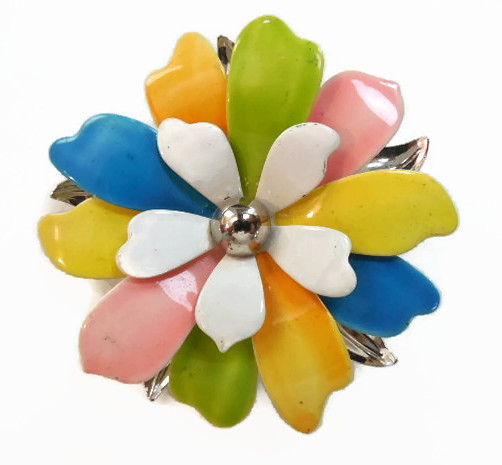 It's not in pristine condition, but I still love it.
I've been coveting this Sarah Coventry brooch for years, but I've been too cheap to pay the usual asking price I see at antique stores and online auctions. (Now if I can just find the matching clip earrings--!)
I went hunting for a set online today and, while I didn't find one in my [dirt cheap] price range, I did find this amazing necklace which I had to share here, from Etsy shop TheClassicJewelryBox.
www.etsy.com/shop/TheClassicJewelryBox .
Isn't this fabulous??? I see my brooch there, and also my coveted earrings. How I would love to learn to make jewelry like this from old or mismatched earrings and pins! Let me show you some other necklace collage pieces this talented Etsian has made:
But back to Sarah Coventry. The other set I adore, and am waiting to pounce on at some yard sale some day, is "Candyland":
Such happy colors!
I found I was collecting Sarah Coventry without even realizing it. It didn't occur to me to look at manufacturer or designer marks on jewelry until I was tipped off by an antique store owner who commented on my "Weiss" earrings. I didn't know Weiss from Adam but I dutifully unfastened one and she showed me the name stamped on the metal underside. After that I learned to recognize some of the collectible names in costume jewelry, and to my surprise, found that I had a number of Sarah Coventry pieces without even knowing it. I just did a quick rummaging of my stash and found these examples: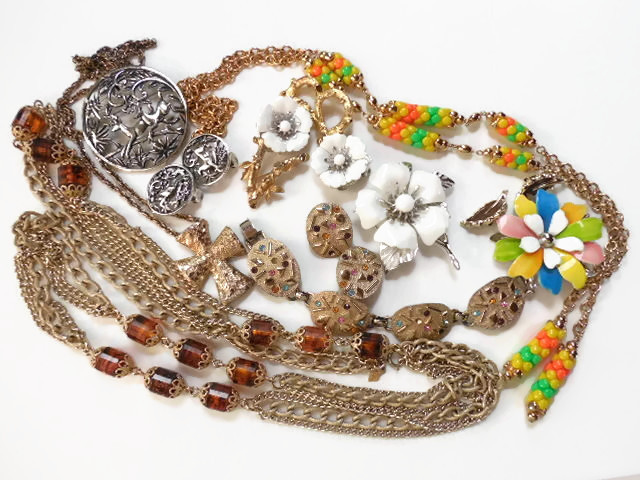 It's plain to see I gravitate toward the figural and whimsical pieces in the SC line, but don't be fooled; there are scads of elegant, classic pieces as well. So start checking for those designer marks!
"SC", "SARAH COV" and "COVENTRY" are all valid Sarah Coventry designations.
P.S. Hoping you'll visit my new facebook page!
www.facebook.com/SheerTrashRoadshow