What's the 2014 USA Olympian wearing during these winter games? Unfortunately, it's this:
http://media.independentmail.com/media/img/photos/2014/01/23/US_Uniforms-Ralph_Lau_Dunl_t607.jpg
Ralph Lauren must have drunk way too many espressos while suffering a concussion when he designed this. What a waste of that highly-touted produced-in-Oregon organic wool! Oh, well, it's nice to know I won't be the only frump associated
with the 22nd Olympiad

(even though it's only from the comfort of my couch).
But ugly winter needlework garments have been around for a long time. I highlighted several garish and unpractical designs a few posts back, but in honor of the Olympics, I bring you yet more of The Best of the Worst in winter wear, vintage-style!
For sheer ridiculous ugliness, it's tough to beat the seventies. Here we have a bulky crocheted poncho, scarf, and gaucho pant outfit designed, apparently, by the Great Pumpkin.
For those who prefer to knit, here's a pattern for a "knickered jumpsuit" for a "rainbow of fashion fun". Seriously. That atrocity on the right is a zippered one-piece knicker-length jumpsuit! Wonder if it has a button flap in back? The pink color-block sweater is lively, at least. Kind of reminds me of the massive Frankensteinian shoulder pad ones that were popular in the eighties--another horrid fashion era. (Think "big hair" if you need a reminder.)
Knickers must really have been the thing in 1970-71. Here are some more examples from the same McCall's Needlework and Crafts magazine, plus ghastly knitted pants in marigold yellow.
This issue also featured a twist on the traditional poncho. These peculiar hybrids are called "poncho-pulls". Hers isn't too horrible, but the guy looks like a yeti with manhood issues in his.
It's interesting to see how ski-wear has changed over the decades. Take a look at the great Jean Claude Killy in his heydey. Does this guy exude class or what?!
http://vintageskistyle.com/wp-content/uploads/2012/02/jean-claude-killy.jpg
http://ts4.mm.bing.net/th?id=H.4691647458378443&pid=1.7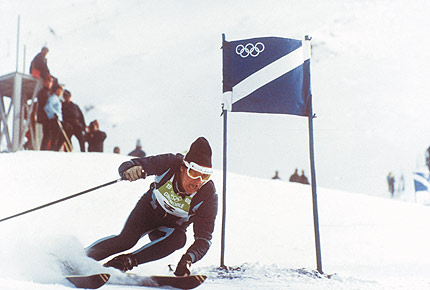 http://www.chinadaily.com.cn/olympics/images/attachement/jpg/site1/20070726/001aa018ff9c0812e6ac3c.jpg
Of course, the skiers were probably half-frozen in those days and I imagine there were quite a few tragic head injuries since not many of them were wearing helmets. Still, one has to admire their style! No spandex Spiderman outfits.
I remember when stretchy ski pants became popular in the 1960s. They had attached stirrups that went under your instep. I loved mine! And I had a nifty pink quilted nylon parka to go with it. I was just a kid and had never even seen an actual ski slope, but I wore them happily just the same.
This was how the trendy skier dressed circa 1966, or at least how they looked in magazines and in movies back then:
Classic Scandinavian... And a bit later, were designs like this one, featured on the cover of the 1969-70 winter issue:
Again, very Nordic. Notice that it looks less dated than the seventies stuff, though predating those, as they were designed along traditional lines. Her pants, I assume, were meant for wearing "apres-ski", while sipping cognac by a cozy log fire. Otherwise they'd flap a lot flying down the slopes. At least they don't make her look like she needs to sign up for Medi-Fast, like this charming "crocheted poncho and pants" ensemble made from Aunt Lydia's heavy rayon and cotton rug yarn (I do not jest!):
~ ~ ~ ~ ~ ~ ~
Okay, you've plowed through all this blather and I know what you're really wanting to view--this morning's [Olympic] game face. Actually today I'm not doing too badly, despite the late night viewing, because I slept like a rock, I've had coffee, and church is canceled due to the weather so I have the pleasant prospect of a crash-and-burn nap before lunch. But here it is, as promised:
There! Are you happy now?