http://media-cache-ec0.pinimg.com/736x/e7/41/4c/e7414cd5d0b824166f8a042565e9274e.jpg
The garage sales signs are beginning to appear here and there so I think it's really and truly spring, despite the weather forecast. Today we stopped at two sales, and I only came home with one gem, but it's a fascinating oddball:
Let me give you a better look.
Isn't this a most unique find? The folks who sold him to me said the original toy was a mechanical bartender, but the head was lost, so someone replaced it with the elephant head. His primitive state and rough condition will, I hope, prove appealing to someone on Etsy. Right now the toy's not working, but my husband will go over it and see what can be done to restore it somewhat. If that works, fine; if it doesn't, I still think this is a great conversation piece. I paid $5 for it, and was surprised to get it for that price. It's destined for the Peppy shop, of course!
Speaking of Peppy's shop, I have another item that I'm thinking of listing. It's a deck of cards from probably the 1950s-1960s, still in its original cellophane wrapping. I had two of these decks to begin with, and sold one for $19. I thought maybe I'd keep this one, but I don't really need it. I just like the cocker spaniel!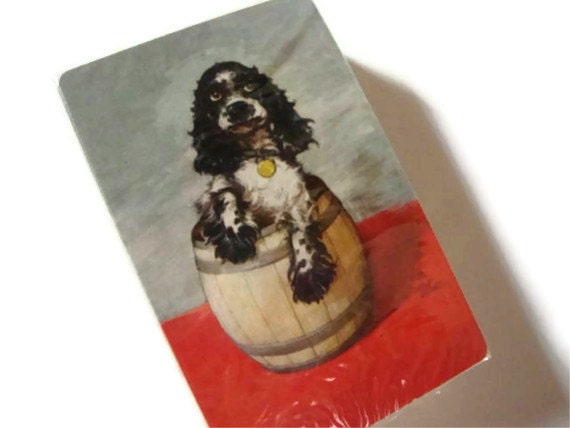 This particular spaniel is a famous one with playing card collectors: His name is Butch, and he was painted in many amusing poses by artist Albert Staehle, appearing numerous times on the cover of the Saturday Evening Post beginning in the 1940s.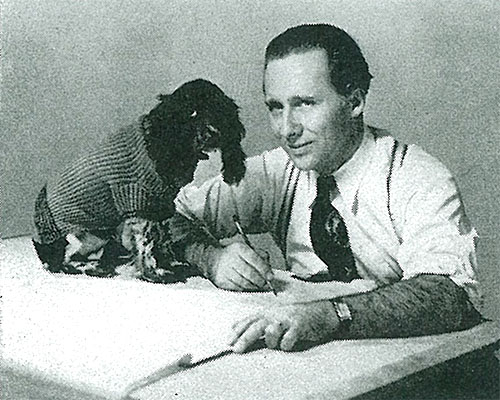 Playing cards carrying Butch's image were popular as advertising gifts, and many of them you find will be imprinted with the name of a particular merchant or business. I have some in used condition; I cut them up to make tags and bookmarks.
Last night I had fun looking up some of the many styles of Butch playing cards on eBay. They would be delightful to collect--but don't get me started, please! I'm learning--slowly--that I don't positively have to have everything that I admire. But you've got to admit, these illustrations are sweet!
Here are some examples of collections for sale on eBay presently. Some of the designs are duplicates, but there are lots more designs not even represented here.
I gather that famed stuffed animal maker Steiff even produced Butch toys for a short time. If you find one of those, you'd better grab it!
This seated Butch toy sold for over $3000 at auction!




This handsome standing Butch is available for $499. What a love!
And I just found out that Steiff is issuing a new Butch this month. He's priced at $195, and they're taking reservations for it. Frankly, I think this one looks bizarre, like Butch on meth. They could have found eyes that were less grotesque and staring, surely!
You can read more about artist Albert Staehle at the following link. It's a fascinating article, especially for vintage illustration art buffs: