I have a brother-in-law who somehow or other manages to fall down a lot. He tends to shuffle his feet, and he's very absent-minded and doesn't tend to look where he's going; hence his frequent and ignominious crashes to the ground. We all joke with him a lot about his clumsiness, but now I shall have to cease and desist.
I toppled to the ground myself yesterday at an estate sale. I was patting a sweet black labrador retriever who was tethered in the yard and scanning for loot at the same time when I stumbled into one of the dog's holes and then tripped over a low garden barrier, right down onto a gravel pathway. Fortunately the only witness was my husband or my dignity would have been injured more than my person. As it was, I scraped up the palm of my right hand, and my arm, shoulder, and shin are bruised and sore. The old grey mare certainly ain't what she used to be! Ah, well. One must be willing to take a few knocks in the pursuit of garage sale treasure.
So did I net any treasure for all my pains? Well, not so much at that sale, but we did find a couple of others where I scooped up some good stuff cheap.
If you're a regular reader of this blog (a pitiable state of affairs, I should think!) you'll know that my idea of good stuff is not necessarily valuable stuff. But it's what I like. Kitsch. Mid-century. Often plastic. Or more to the point, tacky.
Let me share some of the latest haul.
This is maybe $2.50 cents' worth of finds. The blue Santa flannel remnants are to swoon for; I paid a quarter apiece for them. Then there's a never-used vintage linen Christmas towel for which I paid a whopping 75 cents. It looks so good, with gold in the design--this photo doesn't begin to capture it. The boxed set of Christmas paper tableware is pretty nifty. It contains two types of napkins, coasters, and matching paper placemats to "add sparkle to your holiday servings";furthermore, the box assures me it's "Ideal for your party use--perfect as a gift". This treasure cost me $1.00. And the darling flocked plastic mouse was a freebie!
Another freebie I picked up yesterday was this vintage doll hat. I'm wondering if it might have gone to a Vogue Jill or Ginnie, perhaps. I'll post it here and see if anyone can identify it for me.
Another find was an aging shoebox marked "Thanksgiving Decorations" and I paid $1 for it, primarily for the celluloid Indian/native American figures in it, but it also contained some Gurley Thanksgiving candles, a chalkware Indian face to hang on the wall, and some Indian girl dolls dressed in beaded outfits, among other things.
I had fun posing the dolls outside this morning.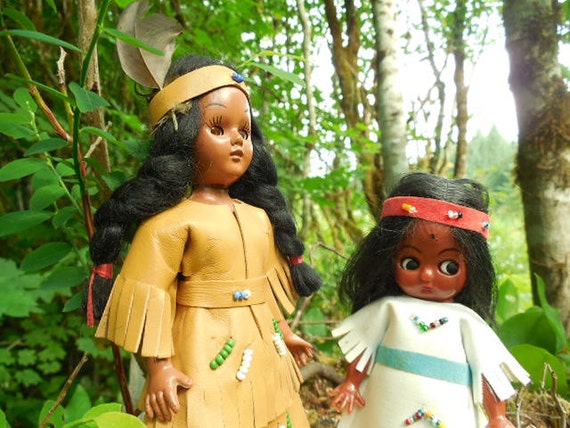 I remember receiving a doll somewhat like the one on the left from an aunt who lived in New Mexico. I was about five years old at the time, so I wouldn't be surprised if these two weren't 50 years old or more. The same with the molded celluloid figures: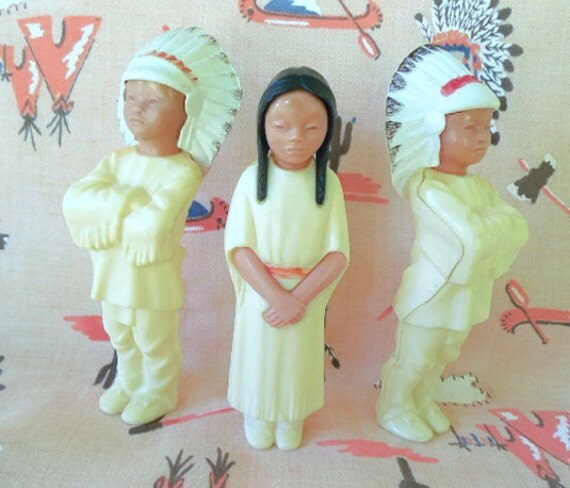 I found others like this on the internet and some were identified as coming from the St. Labre Indian School in Montana during the 1950's. There were other figures, too--a taller Indian woman, a baby in a cradle board, and a few others. They'd be fun to collect. I saw an example of these identical figures displayed in a shadow box to great effect.
I imagine these were also sold in tourist traps and dimestores, not just by the school. No manufacturer's info on them, but I'm thinking made in Japan? Or Hong Kong?
By the way, don't you dig the fabric I used as a backdrop to these old toys? It's another freebie from an estate sale. I have about a yard of it. Cool, huh?
Remind me sometime to share photos of my vintage cowboy/western-themed fabric stash with you sometime!